Homily at St Philip Evans, on the Twenty-Seventh Sunday of Ordinary Time, Year A.
Are you a Catholic or a Christian?
Don't take too long to think about it. I'm interested in the first answer that popped into your head. How many wanted to say "Christian"? How many "Catholic?" How many of you wanted to say "Both"?
I do acknowledge, of course, that not everyone here today is Catholic. Some of you are preparing to become Catholics – so you can ponder how you will answer the question when that happy day comes. Others among you are guests in our congregation from the Orthodox Churches of the East, welcome to receive the sacraments here. We share the same creed which declares the church to be universal – "catholic" with a small "c" – but you are not big-C Catholics under the authority of Pope Francis. You are always welcome here, and we pray for the day when our churches are known for being part of some united structure rather than a divided structure.
The big issue I want to tackle today is this: some of us are Catholics, but not Christians.
The word "Christian" means a follower of Christ. To be "a Catholic not a Christian" is to be a tenant in the Vineyard but not to welcome the landowner's son.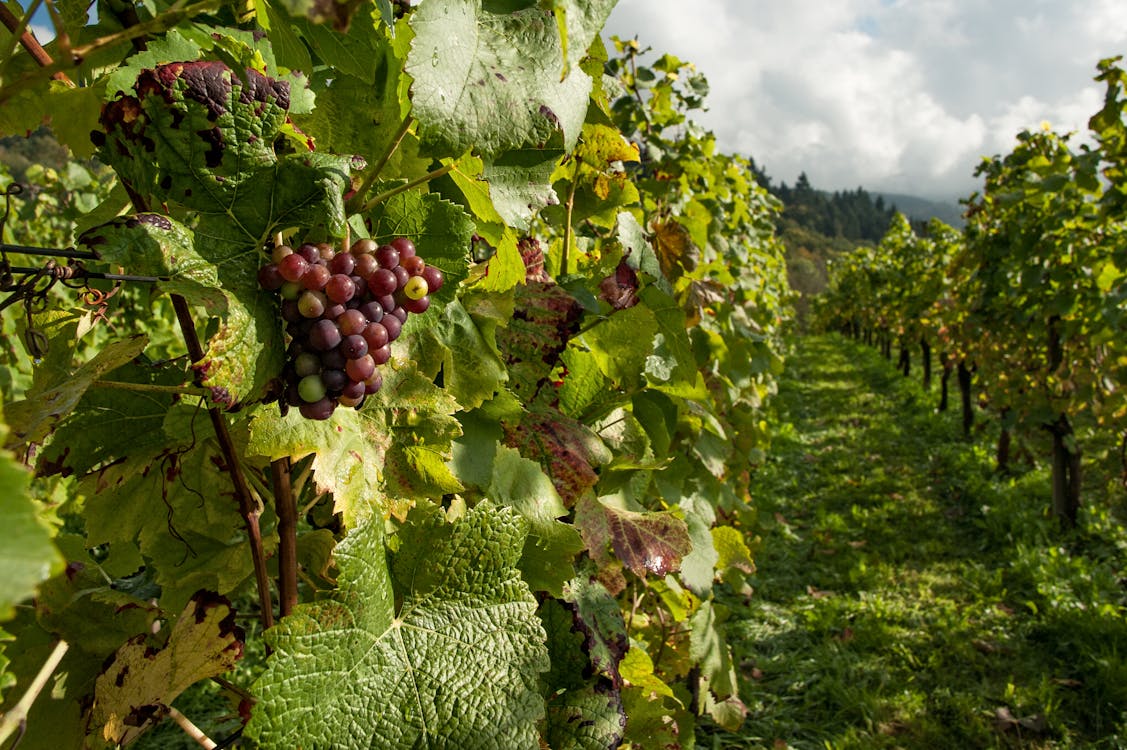 Today's First Reading and Gospel use the image of a vineyard to describe Israel, God's Chosen People. God Our Father expected them to bear fruit – to treat the poorest people generously and fairly, to keep worshipping God and not idols. The murdered servants represent the Prophets, like Elijah and Isaiah, sent to Israel through the ages. God is represented by the landowner who has "gone overseas" – we are separated from God in our broken humanity.
In the fullness of time, Jesus came – his mission was to give the Jewish people a perfect understanding of how to live out God's Law. But the Jewish leaders conspired to have him crucified. So God put the vineyard in the care of new tenants – the Catholic Church! (Many of the first members were Jews who accepted Jesus as their Messiah.) Then, through our human brokenness, we divided the vineyard among ourselves. The Protestant section has each vine managed by its own leader. The Orthodox section has national groups of vines under one manager. In our Catholic section, Pope Francis is foreman over all our vines.
The trouble us, we still suffer from the same brokenness as the Israelites of old; we can still fall into the same traps. Here in the Catholic section of the Vineyard, we can be tempted to say, "I have my membership card! Look! I'm a member of the Catholic Tenants' Association!" But will that be enough when we meet Jesus on the last day of our lives? If God the Father was angry with the lack of fruit then, will he be pleased with the fruit we are bearing now?
What does it look like, to bear fruit for God?
The most important fruit is new Christians. How many people have become active members of the Catholic Church because of you?
Another fruit is good works – do you volunteer for any church project or other activity in the local community?
Yet another fruit is our generous giving – is your gift to CAFOD this week the change in your pocket, or is it big enough that you will truly go without something you would have enjoyed?
Saint Paul speaks today about filling our minds with whatever is noble and pure. That includes avoiding pornography and gratuitous violence in what we choose to watch, read and listen to. It also includes taking time to fill our minds with God's teaching, by reading the Bible at home and coming together for opportunities to explore our faith.
Imagine that Jesus stepped into this church right now and pointed his finger at you. "You, now, tell me what fruit you have borne for my vineyard!" What good have you done this year for the parish? What good have you done for the local community? What good have you done for your extended family?
Make no mistake, at the end of your life, Jesus will do this. There will be a reckoning. It's not only for the good of the parish that I preach about ways to get involved – it's so that you can give a good account of your fruitfulness when He asks you. I do not want you to be found lacking! If you can give a good account – fantastic! If not, there's a right way and a wrong way to deal with it. The wrong way is to try to ignore the challenge, or become so angry that we want to keep our distance from Jesus. That's when we might be tempted to say "I'm a Catholic, not a Christian!"
The right way is to face up to the challenge, and repent. If you know you haven't been producing the fruit Jesus wants, I would like to invite you to come to confession straight after this Mass. Make a new beginning. Is this really sin? Oh yes! Sin, by definition, is "not doing what Jesus is asking you to do"! Or if you can't linger after this Mass, come to confession some time in the next week.
Paul reminds us not to worry, but to pray for whatever we need. We can pray for forgiveness – we can pray for the gifts of the Holy Spirit which allow us to bear fruit – and we can pray for God's guidance to help us know how to use our talents. In the very act of seeking divine help, we bear the fruit of offering God worship!
Are you a Catholic or a Christian? If you cannot yet say: "I am a follower of Jesus, looking forward to the day he returns to this vineyard" – today would be a good day to decide to become a Christian!